Vinyl Siding Experts of Oklahoma City!
Lifestyle Home Improvement offers an extremely wide variety of options when it comes to vinyl siding for your home. We feel that vinyl siding is one of the best options for any homeowner who never wants to paint their house again. We found that painting your home is a great way to preserve your wood siding; however you will probably have to re-paint your home every five to seven years.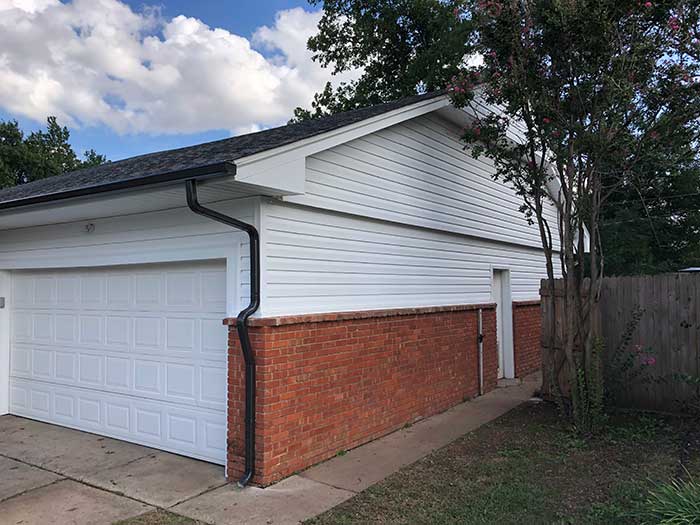 To paint an average size or above average size home with exterior paint from Sherwin Williams including labor could cost $3,500 to $7,000. Painting your home twice in 10 to 12 years could cost your family in upwards of $7,000 to $14,000. The solution is easy; install maintenance free Vinyl Siding, with Lifestyle Home Improvement and stop throwing hard earned money out the window.
15 Reasons to Install Vinyl Siding on Your Home
Cost of repainting is astronomical compared to vinyl siding over time.
The wood on your house will begin to rot in between paint jobs.
Cost to replace bad wood because of rot could be in the thousands.
Paint chips, flakes, and peels in extreme temperatures on wood; this is not the case with vinyl.
Water or ice on wood will eventually warp the surface once the paint flakes.
Our siding has a wind resistance up to 195 mile per hour.
Our siding has a Lifetime Warranty.
Lifestyle has over 31 colors of siding to choose from.
Our siding has been green approved by the NAHB research center.
Aesthetically your home looks the same on day 1000 as is does on day 1 when you install siding.
Paint will fade in stages due to the direct ultraviolet rays.
Our siding doesn't fade to the naked eye due to UV blockers injected into the siding during the extrusion process.
Our siding is from .042 mil thickness and up to .060 mil thickness for a more durable longer lasting virgin vinyl product made to last.
Cost vs. Value magazine says you will recoup around 65% of your total siding investment back into your homes equity the day your siding is installed.
Siding cleans easily with a garden house and 15 minutes of your time.
We know that having the very best products are important, but we also know having a skilled installation department is equally important.
Our installers are certified and are exceptionally experienced in installing any type of siding job big or small. We pride ourselves in making sure each and every job is installed correctly and inspected by our project manager, Tony Realmuto, during and after the installation process.
To learn more about our siding products, our installation process or to get a quote, please fill out our contact form and tell us about your project. We will be in touch with you within 24 hours of your submission of the form.