Trust Our Responsive & Experienced Roof Repair Contractors in Oklahoma
As professional roof repair contractors, Lifestyle Home Improvement Roofing and Construction can complete thorough repairs of your roof to fix damage and prevent further repair costs. Roofing damage will not only shorten the lifespan of your roof, it can compromise the health and safety of your home.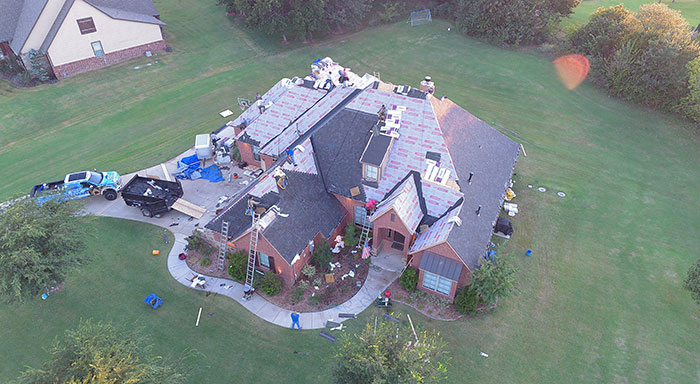 Our business has served the Sooner State for nearly 10 years , and we're here to protect you and your family with a new leak-free roof.
Signs of Storm Damage or Age-Related Wear & Tear
There are many potential signs that something's not right with your roof. Whether it's a problem with a leak you've noticed or damage to the actual shingles themselves , here are a few indications a storm or years of wear have impacted your roof :
You see loose or damaged shingles, or areas of missing shingles.
There are water stains in your attic or on the walls and ceiling in your home.
You see a significant amount of shingle granules when cleaning your gutters, indicating that the roof's protective coating is damaged by hail.
Your roof is visibly sagging or appears uneven in places.
By getting a professional inspection from our experienced roof repair contractors in Oklahoma, we can fully assess the damage and recommend a plan moving forward.
Why a Professional Should Handle Roof Repairs
Climbing on your roof can be dangerous, especially if there's structural damage that you can't see from the ground. By arranging for an experienced roofing company such as Lifestyle Home Improvement to not only identify but repair roofing damage, you have peace of mind that your roof has been repaired to industry standards.