Lifestyle Roofing of Oklahoma City Custom Patio Covers and Carports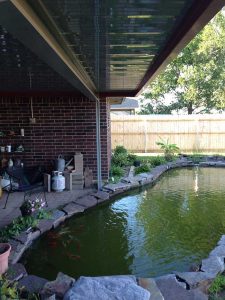 Lifestyle Roofing & Home Improvement's carports and patio covers are custom built right here in Oklahoma City.
Lifestyle's outstanding features include 11 color combinations to match the decor of your home and custom fabrications for an exact fit. All of our aluminum products are maintenance free because the colors are baked into the aluminum at the factory instead of being sprayed on after the aluminum is extruded. Lifestyle's carports and patio covers feature a total aluminum construction with simple clean lines and professional appearance to blend well with any home or office.
The gutter system is fully integrated into the carports and patio covers and allows for maximum water removal and disposal from the system. Protection for your cars, boats, and motorcycles from hail, snow, and blistering heat can be achieved with one of our systems. The underside of the system Lifestyle uses either flat pans for a cleaner look or a "W" pan for a more traditional look based on personal preference.
Our system will not crack, blister, or peel like other inferior carports and patio covers you might find in the market place. We offer a warranty that is one of the most competitive in the industry. The LHI warranty is 3 years on labor and a Lifetime Warranty on materials from our manufacturer.
Please give us a call or fill out our contact form and give us an idea about your future project.