Handling All Your Home Improvement Needs in Blanchard, OK
Lifestyle Home Improvement Roofing and Construction has been assisting residential and commercial clients in Blanchard since 2010. Our mission is to provide honest, expert services to every homeowner we do work for.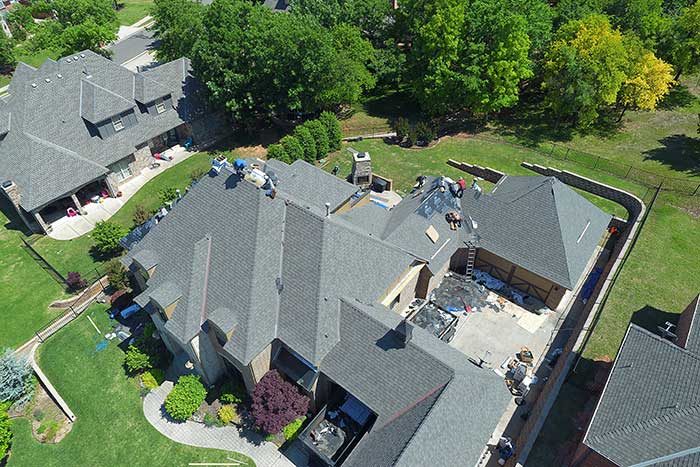 With quality products installed by experienced crews, we're proud to provide warranties that extend beyond those that manufacturers offer. Many of our customers are return clients, because they've seen the work we do and know they'll have an exceptional experience every time.
Whether you need a roofer to repair your home's most important asset or a siding contractor to enhance your office, Lifestyle Home Improvement is here to help.
Industry-Leading Brands to Give You the Best
We never compromise on quality, which is why Lifestyle Home Improvement only works with the most reputable brands in the home improvement industry, including GAF, James Hardie, Andersen Windows, CertainTeed, Owens Corning and more!
No two homes or businesses are quite the same, and we want to help you make the perfect choice for your structure, whether you want to replace your garage doors for an updated look or need a roof replacement for your business location. Our warranty options help you make the most of your investment, meaning when you work with us, you get the best in Blanchard!
Storm Damage Repair & Insurance Claim Assistance
We're proud to be a roofer with extensive storm damage repair and insurance claim filing experience. In fact, one of our managing partners has a background in adjusting insurance claims for an insurance company, which gives us expert insight into helping you get the most for your property's damages.
Lifestyle Home Improvement also features 24/7 emergency assistance for our existing clients, giving you peace of mind when working with us to protect your home or office location.
---
Chris S.
This homeowner got the new GAF HDZ here in Blanchard where our office is located.
Near
NE 7th St,
Blanchard
,
OK
73010
---
Barbara C.
Help this customer get a new roof before he lost full replacement on his policy!
Near
Willow Ct,
Blanchard
,
OK
73010
---
Marlon C.
Check out this beautiful home!! Almost had it all!! Lots of space, great color coordination, what's missing? Gutters!! Folks, gutters are so important for the protection of our homes!! Call us anytime for a free estimate!!
Near
N Council Ave,
Blanchard
,
OK
73010
---
Cole M.
Finished installing this beautiful GAF armorshield 2 class 4 impact resistant shingle. For one of our customers here in Blanchard Oklahoma.
Near
NW 3rd St,
Blanchard
,
OK
73010
---
Kory S.
Sellin,insurance,State Farm, all state, farmers, safe co, AAA, USAA, hail, storms,rain, shingles
Near
N Main Ave,
Blanchard
,
OK
73010
---
Cole M.
Another pleased customer in blanchard Oklahoma. Just finished putting on Timberline HD shingles in weather wood.
Near
Silver Oak Dr,
Blanchard
,
OK
73010
---
Barbara C.
Getting roofs bought in Blanchard today! Hail damage almost a year old! Don't wait! Most insurance only gives you a year from the storm date!
Near
Peregrine,
Blanchard
,
OK
73010
---
Barbara C.
Don't settle for a patched roof!
Near
Peregrine,
Blanchard
,
OK
73010
---
Jeremy S.
GAF Impact Resistant shingles from Hail damage in Blanchard.
Near
Chippingham Ln,
Blanchard
,
OK
73010
---
Marlon C.
These hardworking folks just purchased this great home but unfortunately it came without gutters. They called us and now they have the gutters to help protect their foundation.
Near
N Council Ave,
Blanchard
,
OK
73010
---
DJ M.
Happy customer! Installed a brand new GAF Roof on their home!
Near
N Monroe Ave,
Blanchard
,
OK
73010